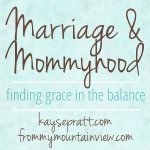 This past week I received a message from (in)courage about some new Facebook groups they were starting. Even though I haven't participated in a group like this before, I felt compelled to join the "Marriage & Mommyhood" group, which subsequently met its max size and closed. Somehow the fact that I read that message at just the right moment to join before it closed seemed to confirm for me that perhaps there was a Message of another kind behind it – a Message with a capital M meant just for me.
Even though I am writing this "Week 1″ post a day late, I still wanted to express my thoughts – because the message of doing vs. being has resonated with me so strongly over the course of the last week. And also because I am interpreting this Message as another reminder that God has given me my creative gifts to be shared, not to be worried over and pushed aside in the flurry of daily minutia we all experience.
Be still and know that I am God.
Pause for just a moment in those words. How comforting and reassuring they are. How often do we really feel permission to do that? To BE. STILL. And just KNOW. Continue reading »