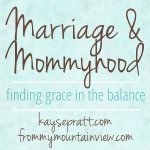 2012 has had its share of turmoil, changes, and hard dates and deadlines on the calendar. My attempts to control the agenda and tame the to-do list have often been met by maniacal laughter (was that out loud?).
So what have I learned from this? Is it time to throw out the planner and just live free? Or do I need another planner maybe? Perhaps a wall calendar this time?
No, nothing quite so drastic. I'm taking a step back to look at this from two standpoints: the Practical and the Divine.
First, the Practical. Life is crazy for women. Especially with kids and their activities, house and husband. Throw in a job for good measure in my case. And the pressure to find some me-time too so you don't implode. We need some sort of organization: an agenda and to-do list – just to keep it all straight. Let's face it, I think for most of us, the mom is the glue that holds it all together. I've tried a bunch of different ways to organize my agenda and time, and I'm still trying! Some handy tools I use:
Cozi.com – My latest find: an online family organization tool + phone app. Finally something simple that lets me put in and color code family member activities.
Workflowy.com – This is my bare bones to-do list tool. No bells and whistles makes it super easy to manage. Just dump all your to-do's into an outline format here and get the satisfaction of crossing them off as you finish. I like the Twitter-esque hashtag feature too.
I'm still working to find the best ways to help my daughters become more effective in doing what they need to do – with limited whining and complaining. But at least I am getting a better handle on myself. My latest goal (ok, let's face it – this has been a goal for a LONG time) is to make time for me, to exercise, have friends, and write. Getting there. That's all I can ask right now.
And now, the Divine. I know my laundry list of to-do's pales in comparison to what God wants from me. So I am trying intently to listen and honor it when I hear the Voice whisper inside.
Look at what living by the Spirit brings into your life! Couldn't we all use more of that?! And so I need to acknowledge that my agenda is not supreme. My to-do list will live another day without being done.
My true agenda needs to be one of listening first, allowing myself to be led by Spirit. Sometimes that means following my agenda but sometimes I will be led somewhere altogether different.
Like yesterday for example, when I planned to spend the afternoon working my way through the never-ending loads of laundry. God had a different plan. He whispered "Play." My littlest needed me. I offered to play Legos with her and her look of surprise and disbelief nearly floored me. Do I really play so rarely? We dumped out that barrel and played together on the floor for a long time.
I set aside all those to-do's and you know what? I haven't given a single thought to what I didn't do, and I can't stop thinking about what I DID do. Legos. Love and joy. Gratitude.